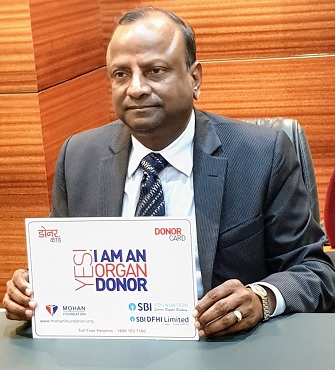 Former SBI Chairman Shri Rajnish Kumar taking the Organ donation pledge
---
SBI Chairman flags off a couple's roadtrip from Mumbai to London for organ donation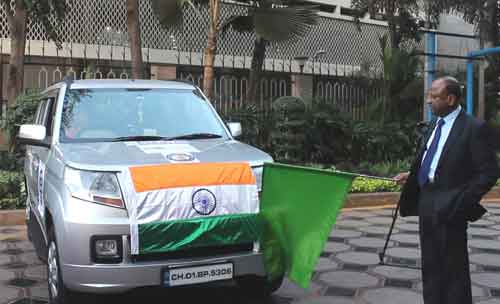 This couple's road trip from Mumbai to London, across 14 countries, covering 22000 Kms in 60 days has a very special meaning. Their daughter was detected with end-stage kidney failure a few years back and in 2017, her life was saved after she received a kidney transplant. She lives in U.K.
After his retirement, Mr. Bhal Shekhar Chilana, who continues to work as a financial consultant in Navi Mumbai, is now on a mission to spread awareness and sensitize people and plans to take it to every nook and corner of the world by way of this 'Road trip for Organ Donation'. He is a Life Member with MOHAN (Multi Organ Harvesting Aid Network) Foundation.
MOHAN Foundation's project 'Gift Hope, Gift Life', supported by SBI Foundation aims at bridging the wide gap in the number of patients needing organ transplant and availability of organs. SBI Foundation, in partnership with MOHAN Foundation, has taken it up as a national concern and has taken up the challenge to fill this gap.
MOHAN Foundation organised the Flag-Off ceremony, on 23rd April 2018 at 6 pm , at the State Bank of India Building (Nariman Point), inviting the nation's largest bank, State Bank of India's senior management to do the honours. Shri Rajnish Kumar, SBI's Chairman, who strongly believes in inspiring by example, said "Everyone must support this cause. I have registered myself as an organ donor. Many of my colleagues have also taken the pledge. On this occasion, I urge all my employees to spread awareness about the cause of Organ Donation".
Mrs. Jaya Jairam, MOHAN Foundation Mumbai added, "We are so proud of this initiative by Mr. Chilana. We are coordinating with Organ Donation and Transplant teams from the other countries through which Mr. Chilana will be driving through, so that they can welcome his team and share the inspirational story in their country".
---
Donor Felicitation on 10th National Organ Donation Day at State Bank Bhavan Auditorium, Nariman Point Mumbai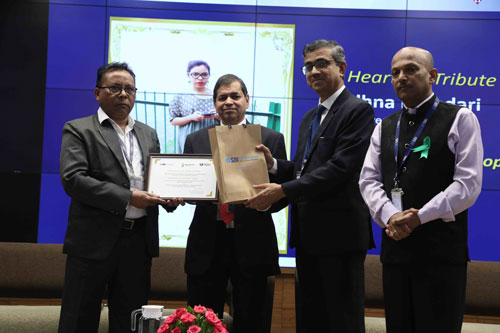 On 27th November 2019, on the occasion of 10th National Organ Donation Day, MOHAN Foundation and SBI Foundation felicitated a few donor families.
Mr. Nixon Joseph, President & COO SBI Foundation, began by introducing the activities undertaken by Project Gift Hope Gift Life in partnership with MOHAN Foundation and thereafter, launched a short video demonstrating the impact of the project. The video also contained a general appeal made to their employees, customers and people at large, by Chairman of State Bank of India, Mr. Rajnish Kumar, Dy. Managing Director of SBI, Mr. Alok Kumar Choudhary, MD & CEO of SBI Foundation, Mr. Mahendra Kumar Rekhi and lastly, President and COO of SBI Foundation, Mr. Nixon himself.
Mrs. Jaya Jairam shared the roadmap under Project Gift Hope Gift Life, its impact of transforming many lives and its forthcoming plans. Mr. K T Ajit (CGM HR SBI), Mr. Mahendra Kumar Rekhi and Mr. Nixon Joseph were invited on the dais by her.
Mrs. Jaya Jairam invited Mr. Dashrath Mundari, SARB Manager of SBI, Bhilai, who tragically lost his daughter, Ms. Sadhna Mundari a fashion designer and consented to donating her organs, thereby saving five lives. His family was counselled by Ms. Shafia Mallik, Transplant Coordinator at MOHAN Foundation, Delhi NCR.
Then she invited Mr. Amit Shidgane who not only consented to donate organs and tissues of his brain dead mother, but also convinced other family members to support his decision to donate his mother Mrs. Snehlata Shidgane's organs. Patient's husband Mr. Shidgane, who was admitted in the same hospital at that time for a procedure also gave consent brave heartedly, and more than 12 lives were saved.
She then invited Mr. Navinchandra Gandhi, father of 19-year-old donor Mr. Raj Gandhi, whose family was counselled through SBI - MOHAN Foundation's Helpline, saving six lives.
In order to showcase the quality of life of transplant recipients, Mrs. Jaya invited a few recipients as well. Ms. Hvovi Minocherhomji, a heart recipient who runs her own student counselling firm and Ms. Shibani Gulati, a kidney recipient who runs Full Marathons (41km) were felicitated.
A few volunteers and counsellors were also appreciated and felicitated during the event attended by around 200 people. We are very thankful to Mr. Aman Chaudhary (Assistant Vice President & Program Head SBI Foundation) and Mr. Mohit Bhat (Marketing & Communication Professional SBI Foundation) for making the wonderful event possible.
---
Mumbai CST Glows Green on National Organ Donation Day as a Tribute to Organ Donors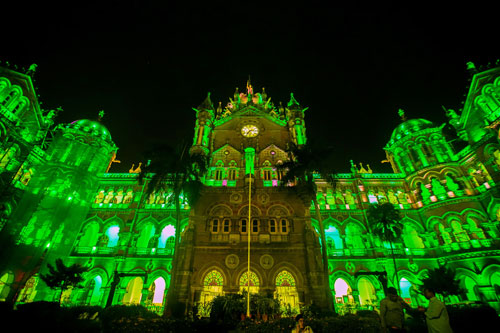 The iconic Chhatrapati Shivaji Terminus Mumbai (CSTM) railway station was lit green on 27th November 2018, India's National Organ Donation Day as a tribute to organ donors and their families.
MOHAN (Multi Organ Harvesting Aid Network) Foundation and SBI Foundation who have partnered with each other through the 'Gift Hope, Gift Life' project, undertook this initiative. On this same day a few hospitals in Mangaluru, Karnataka also turned green to create awareness about organ donation among the public. The Indian Medical Association (IMA) also organized a walkathon on Sunday in a Manguluru stadium to mark the organ donation day. Earlier this year in February, MOHAN Foundation was also instrumental in lighting up the Qutub Minar monument green.
The organ donation cause is conventionally represented by a green ribbon. Green symbolises hope for the millions who are awaiting a second chance at life through organ transplantation. It also reminds of those who have died waiting for a life-saving organ. Most importantly, it conveys our gratitude to organ donors and their families for giving the supreme gift of all – the gift of life.
An information booth was setup by MOHAN Foundation for two days inside the busy Mumbai railway station, which is also a UNESCO World heritage site that receives an average footfall of around 6.3 lakh passengers per day. Information brochures containing facts about organ donation were handed out to the commuters and donor cards were given to those who registered as organ donors. MOHAN Foundation has taken initiatives to organize many such campaigns and train a number of volunteers to spread the message of organ donation far and wide.
---
MOHAN Foundation conducts Organ Donation Sensitization for State Bank of India's Local Head Office (LHO) Employees at Bandra Kurla Complex, Mumbai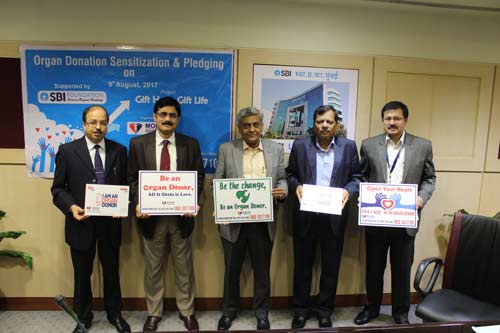 On 9th August, 2017, MOHAN Foundation conducted the awareness talks for sensitizing SBI's employees at its LHO at Bandra Kurla Complex. The session was relayed live through video conference, to their zonal offices at Aurangabad, Pune, Worli and Goa for sensitizing their employees as well. This session was part of the Gift Hope, Gift Life project supported by SBI Foundation. Awareness Standees, banners and posters were all displayed at every floor of all these offices, at strategic locations.
The event was launched with the lighting of Lamp by State Bank's dignitaries – Shri Deepankar Bose Chief General Manager (CGM), Shri V Ramling, CGM, Shri Devendra Kumar, General Manager, Shri Rajesh Kumar Mishra, General Manager, and Shri Deep Kumar Kapoor, General Manager and by Mrs.Jaya Jairam. The Chief General Manager (CGM), Shri Deepankar Bose introduced the topic of Organ Donation to all his colleagues by mentioning that he had already taken the Pledge during one such awareness session during his previous assignment with the Bank and that it was a noble cause whereby each and every one could end up saving many lives.
Mrs. Jaya Jairam thanked the dignitaries present for taking their valuable time out for attending the sensitization session. She also thanked the Chairman and the MD at SBI Foundation for their support to the cause of organ donation. She then began her presentation by giving an introduction about MOHAN Foundation.
She then shared her own emotional journey of being a transplant recipient and how it saved her life. Some questions were asked about the waiting list and process of registration on it, who needs to be contacted for donating tissues such as eyes and skin if someone passes away at home, etc. All of these were satisfactorily answered. She finally appealed to all to support the cause by taking the Pledge to donate their organs. Mrs.Alka Maheshwari, the Chief Manager was the first person to volunteer to take the Pledge. All the senior dignitaries present took the pledge, thereby inspiring their colleagues and providing boost to the cause. Many employees signed up for the Donor Card in great numbers, which was very encouraging for the cause.
MOHAN Foundation specially wishes to thank the CGMs, GMs and DGMs of the LHO for attending the session and wholeheartedly supporting the cause. We are grateful to Mr.Mahendra Kumar Rekhi, Managing Director of SBI Foundation, Mr.Aman Bhaiya, Asst. Vice president at SBI Foundation and Mr. Mukesh Srivastava, CFO at SBI Foundation for their support. Our sincere thanks to Mrs.Alka Maheshwari, the Chief Manager (HR) and her team for their help in organising the event.
---